Stelenfeld and Place of Information
The Memorial to the Murdered Jews of Europe in the middle of Berlin is Germany's central Holocaust memorial, a place of remembrance and commemoration for the up to six million Jewish victims of the Holocaust. It was officially opened on 10 May 2005. The monument consists of the Field of Stelae designed by Peter Eisenman and the underground Information Centre. Admission is free.
24 hours a day
accessible
Cora-Berliner-Straße 1
D – 10117 Berlin
Field of Stelae and architect Peter Eisenman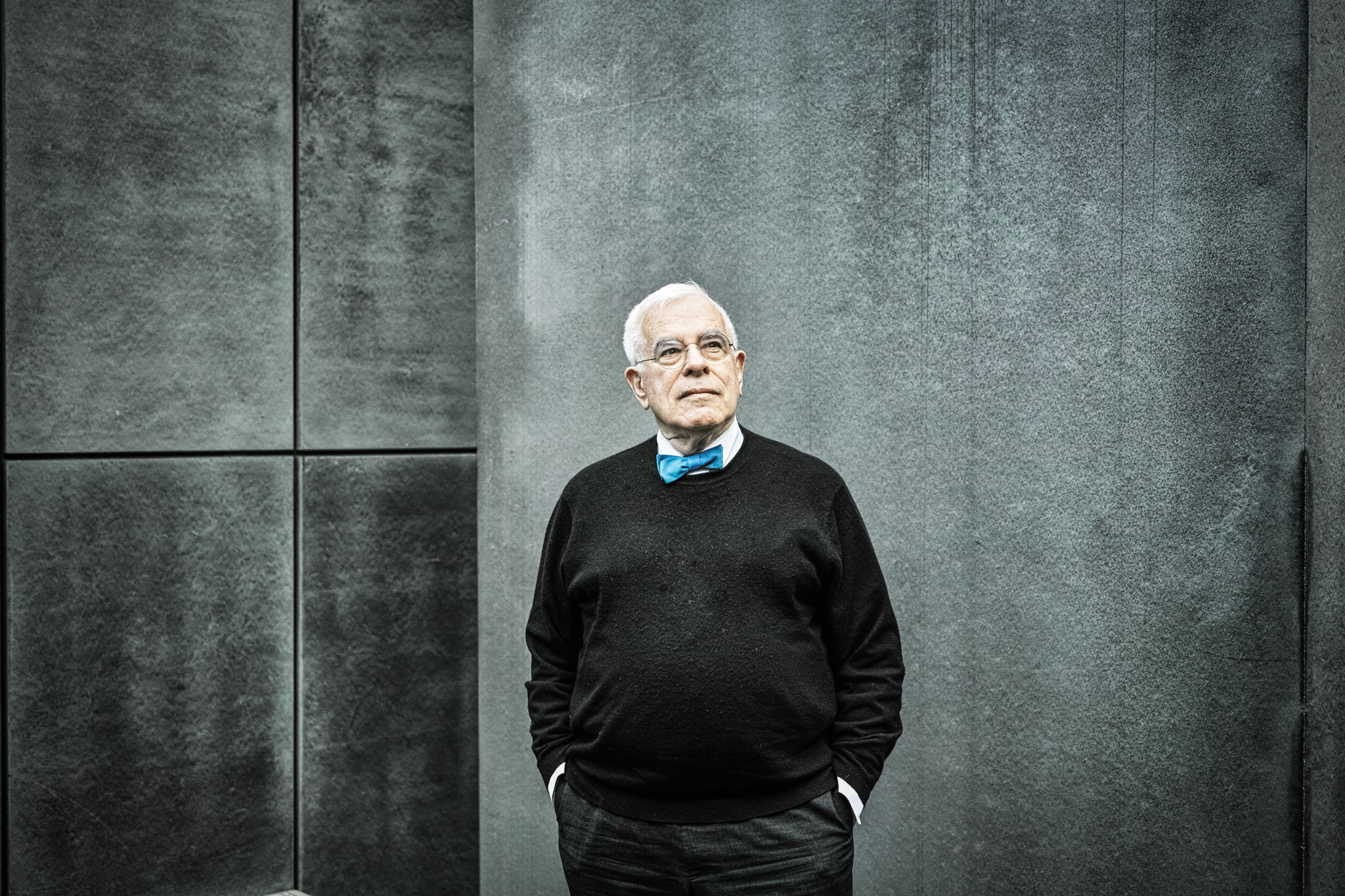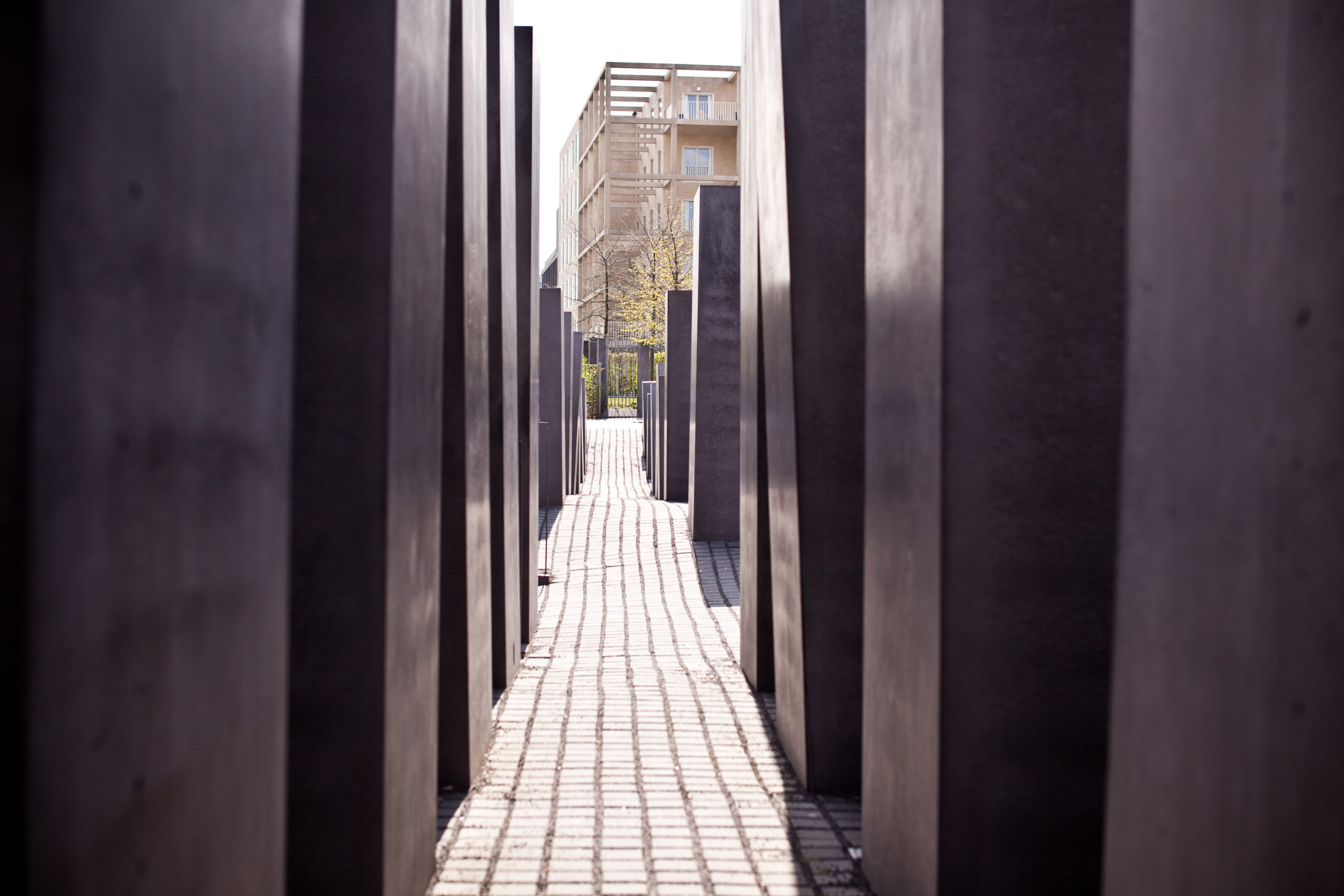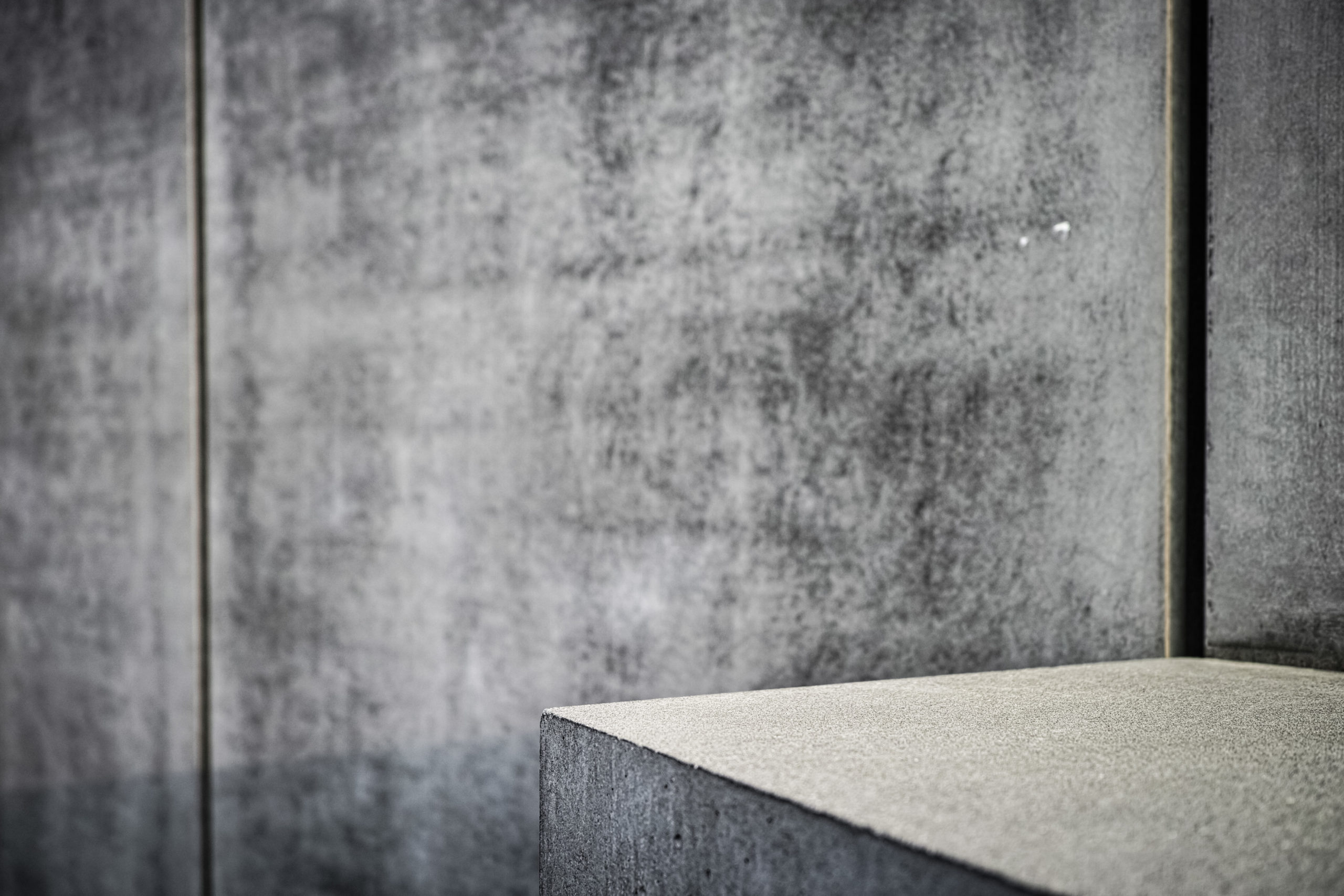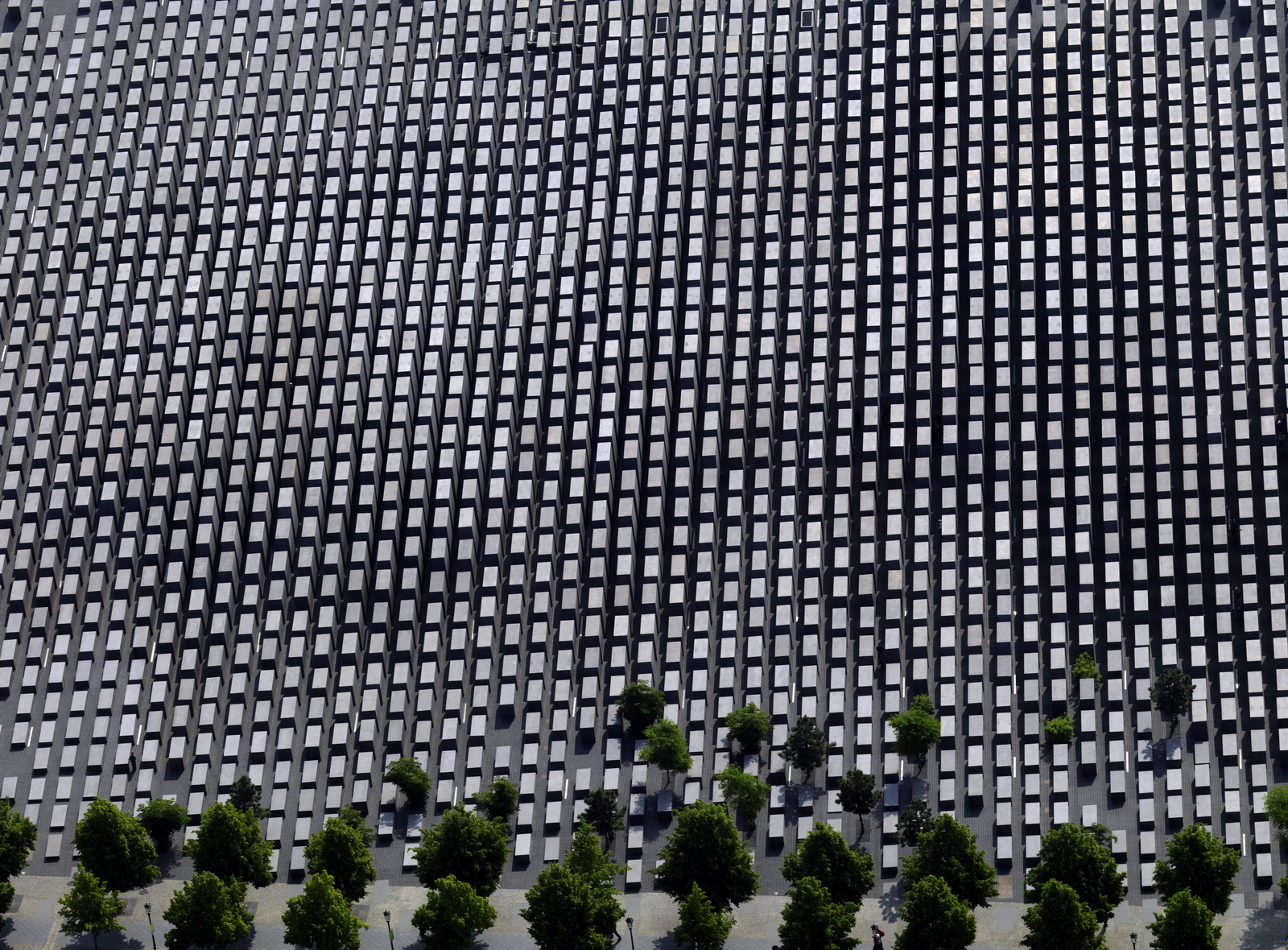 Facts and figures
Stelenfeld size: 19,073 m²
Number of steles: 2,710 (made of concrete)
Area of the exhibition rooms: 800 m²
Total construction costs: EUR 27.6 million (federal funds)
Dimensions of a stele: 0.95 m wide, 2.38 m long, heights from 0 to 4.7 m, inclination from 0.5 ° to 2 °
811 steles with heights of 0.2 to 2 meters, 916 steles with heights of 2 to 3.5 meters and 872 steles with heights of 3.5 to 4.7 meters. 112 parallel built-in steles (construction height 0.2 meters) are located in the fringe areas of the Field of Stelae and in the public walkway.
Weight of a 4.7m tall stele: About 16 t
Average weight of a stele: About 8 tons
Trees: 41 (including pines, lime trees, antler trees) transition to the zoo
The steles stand on a gently but irregularly lowered site of about 19,000 m². You can immerse yourself in this fully walkable structure from all four sides, the wave-like shape of which is perceived differently from each location.
Peter Eisenman about the Memorial
Biography Peter Eisenman

Exhibition in Information Centre under the Field of Stelae
The exhibition in the Information Centredocuments the persecution and extermination of the Jews of Europe and the historical sites of the crimes. It is visited by nearly half a million guests a year.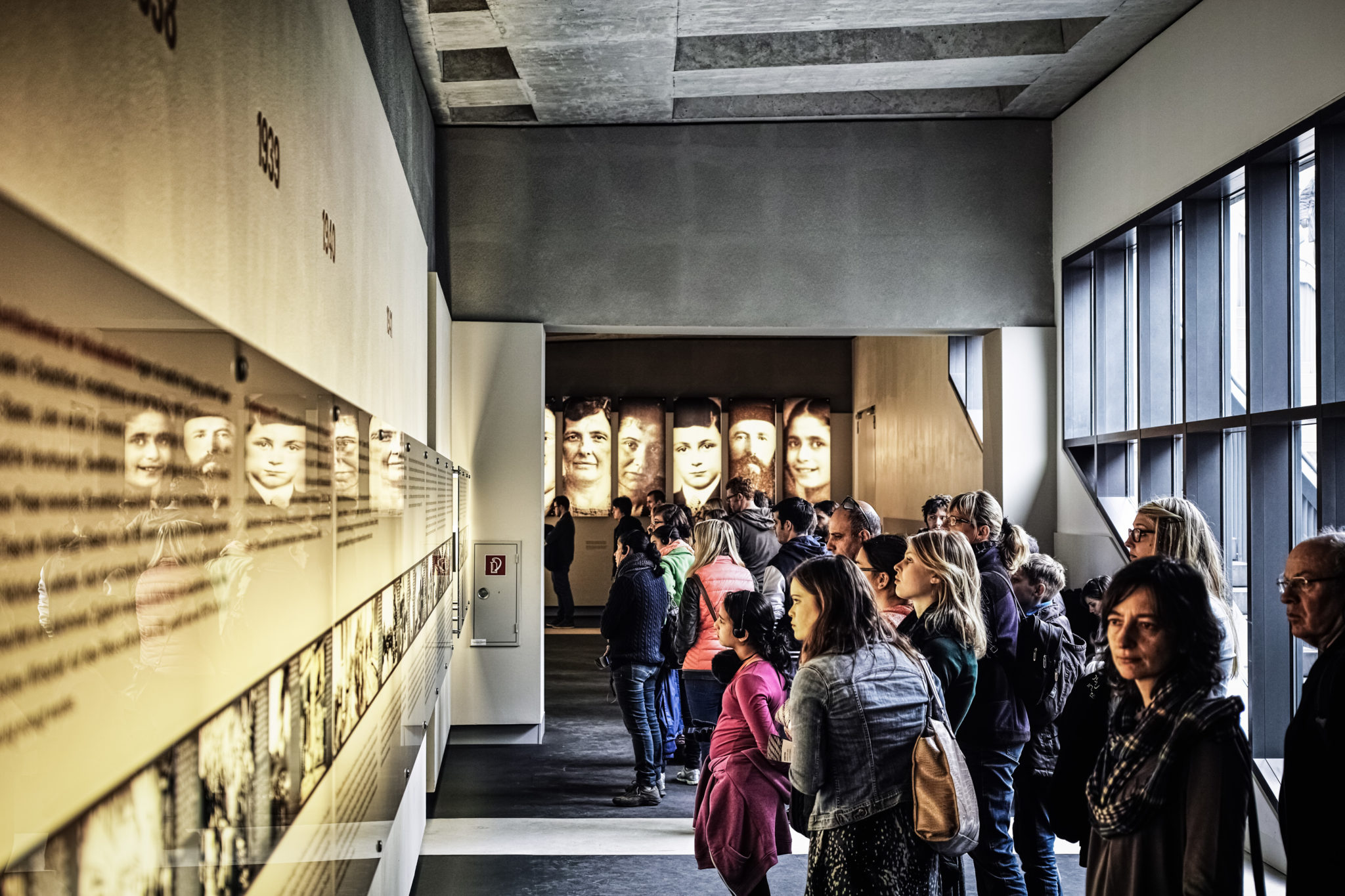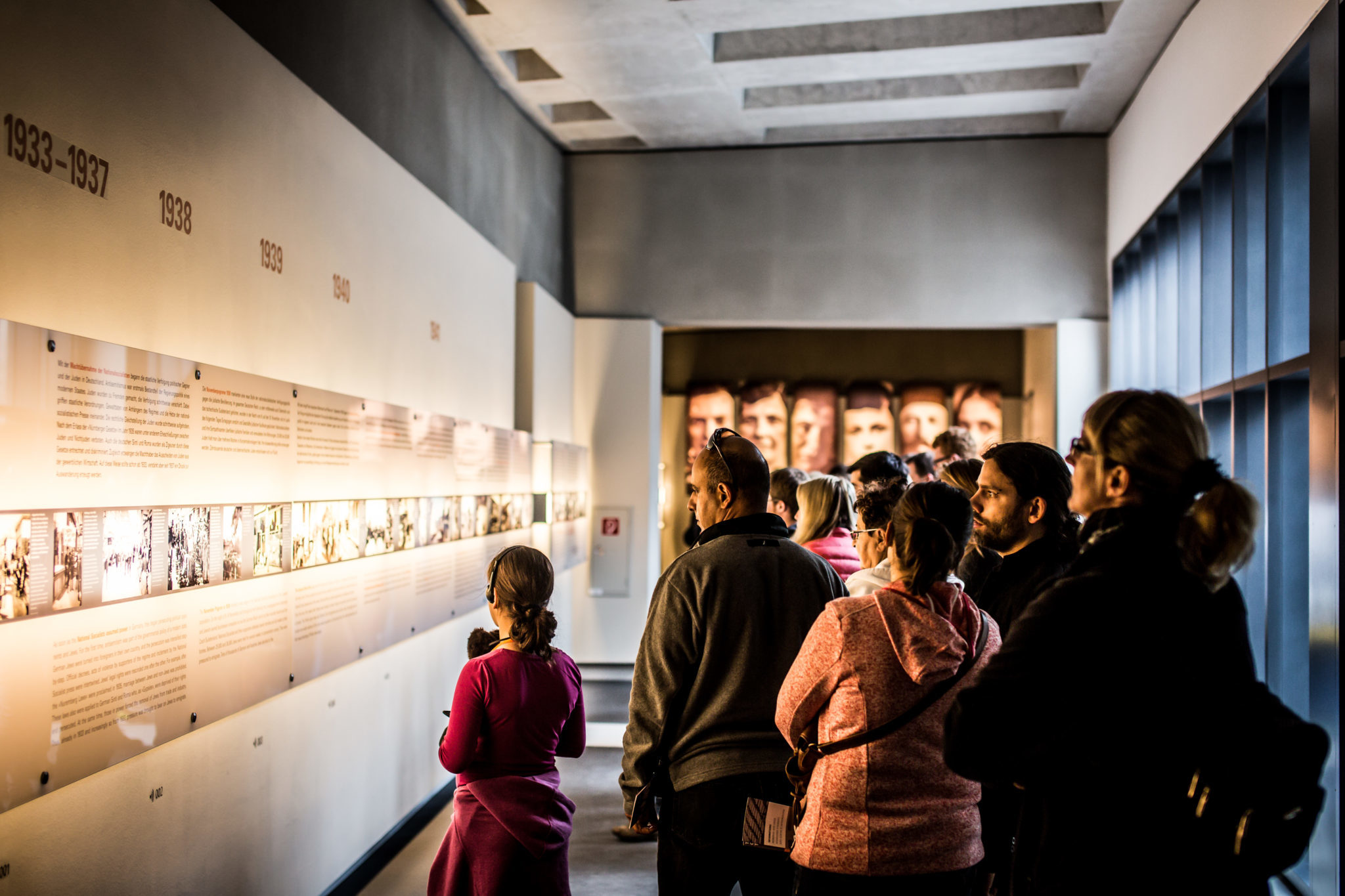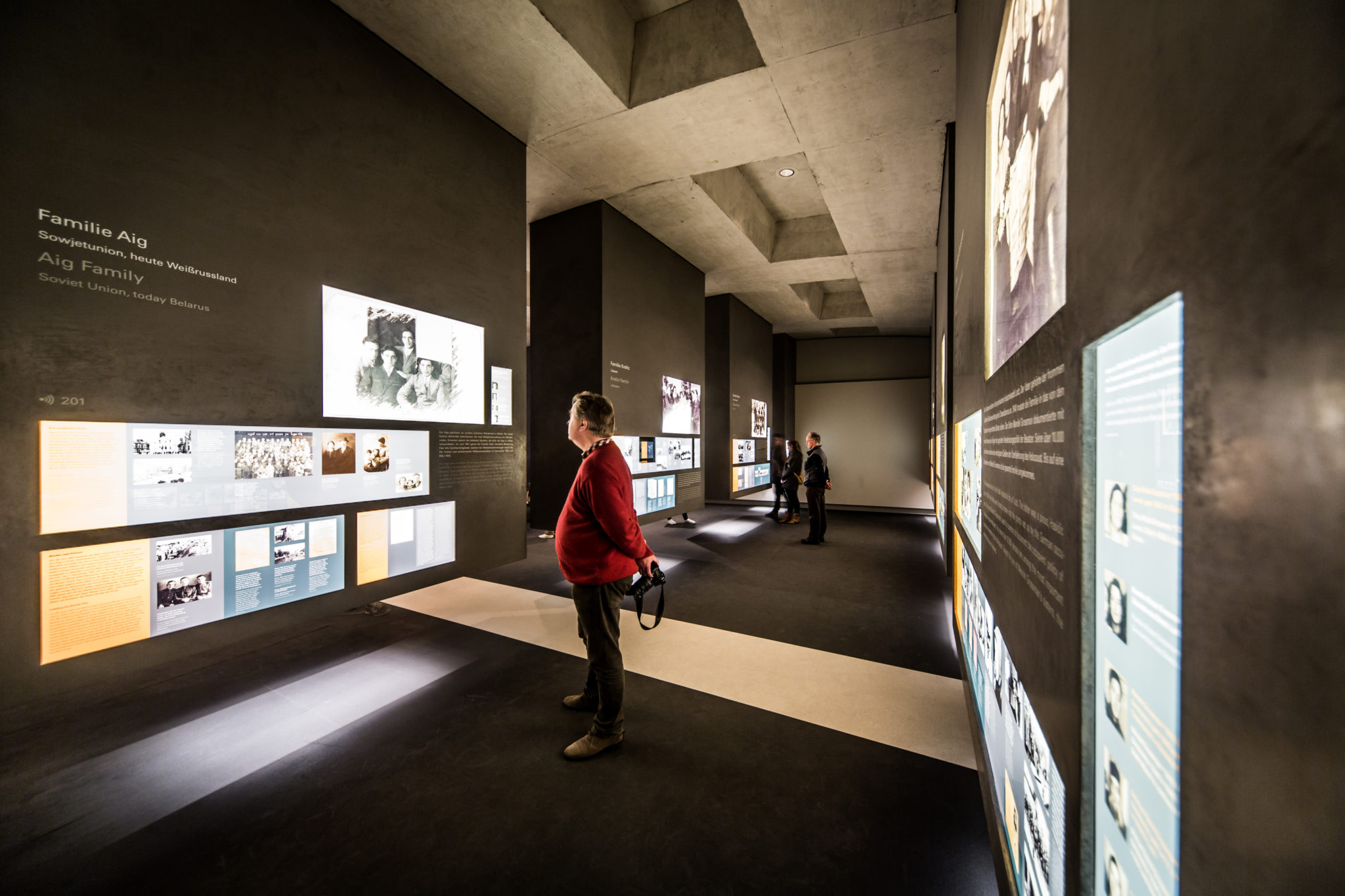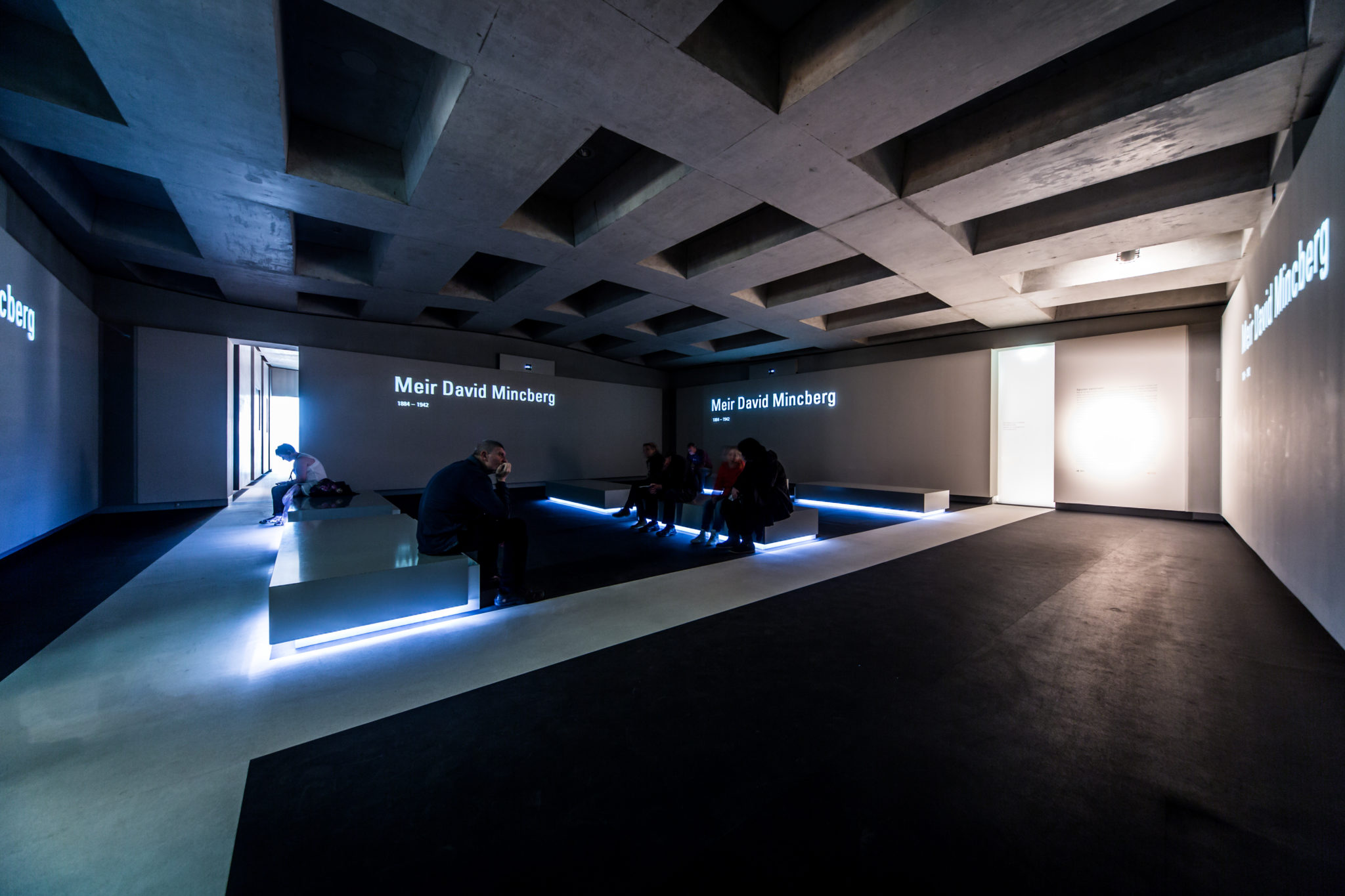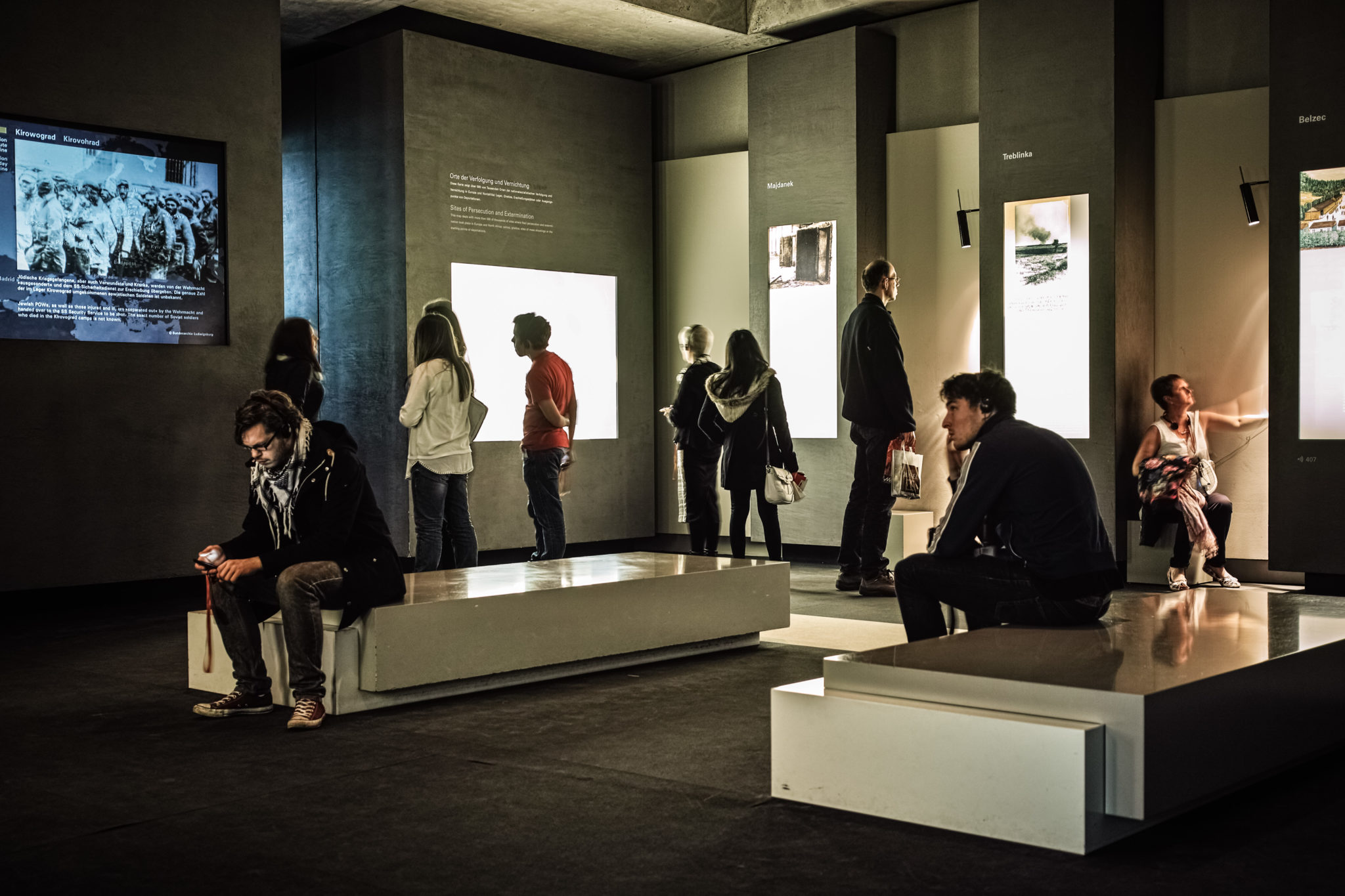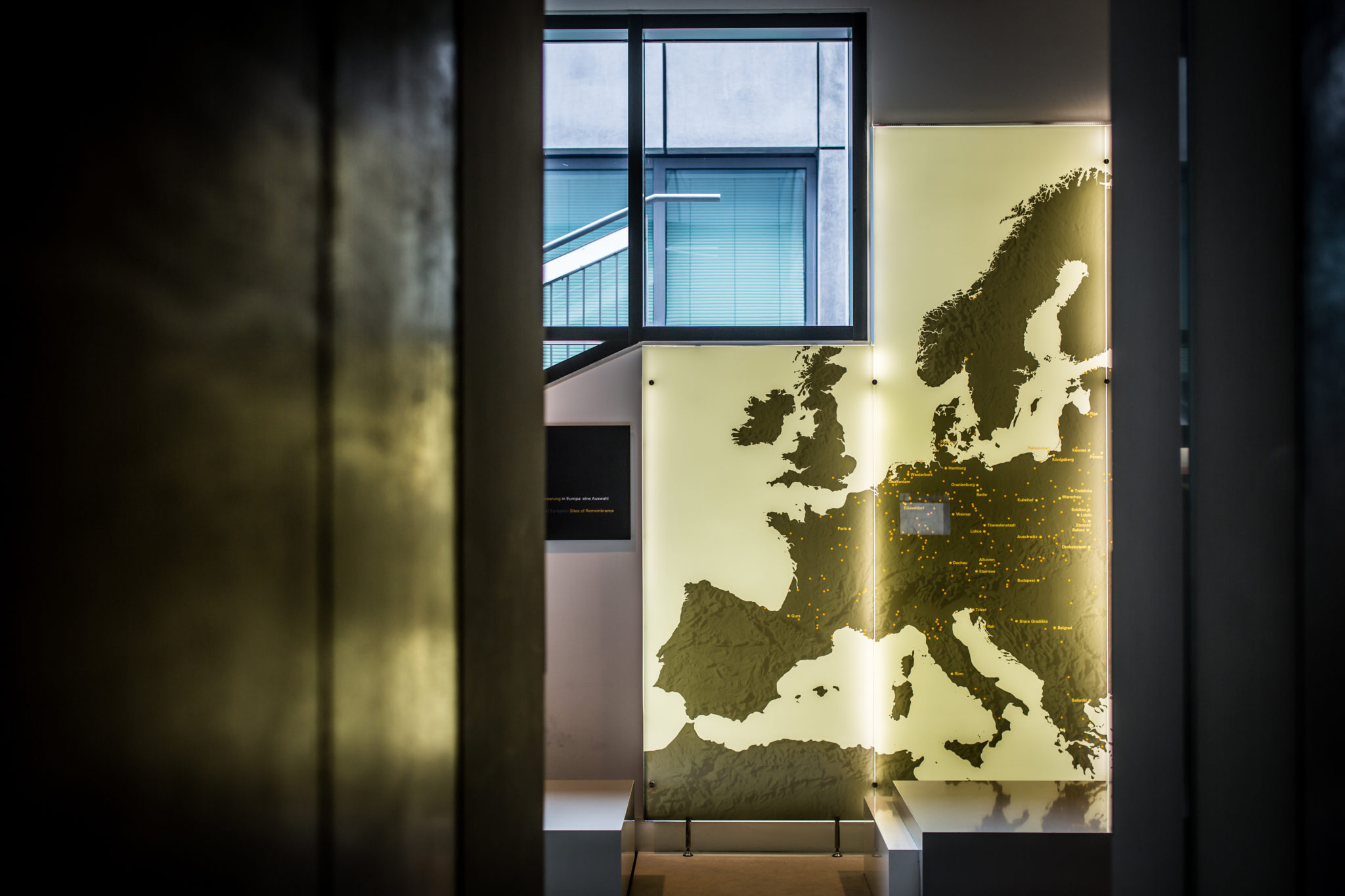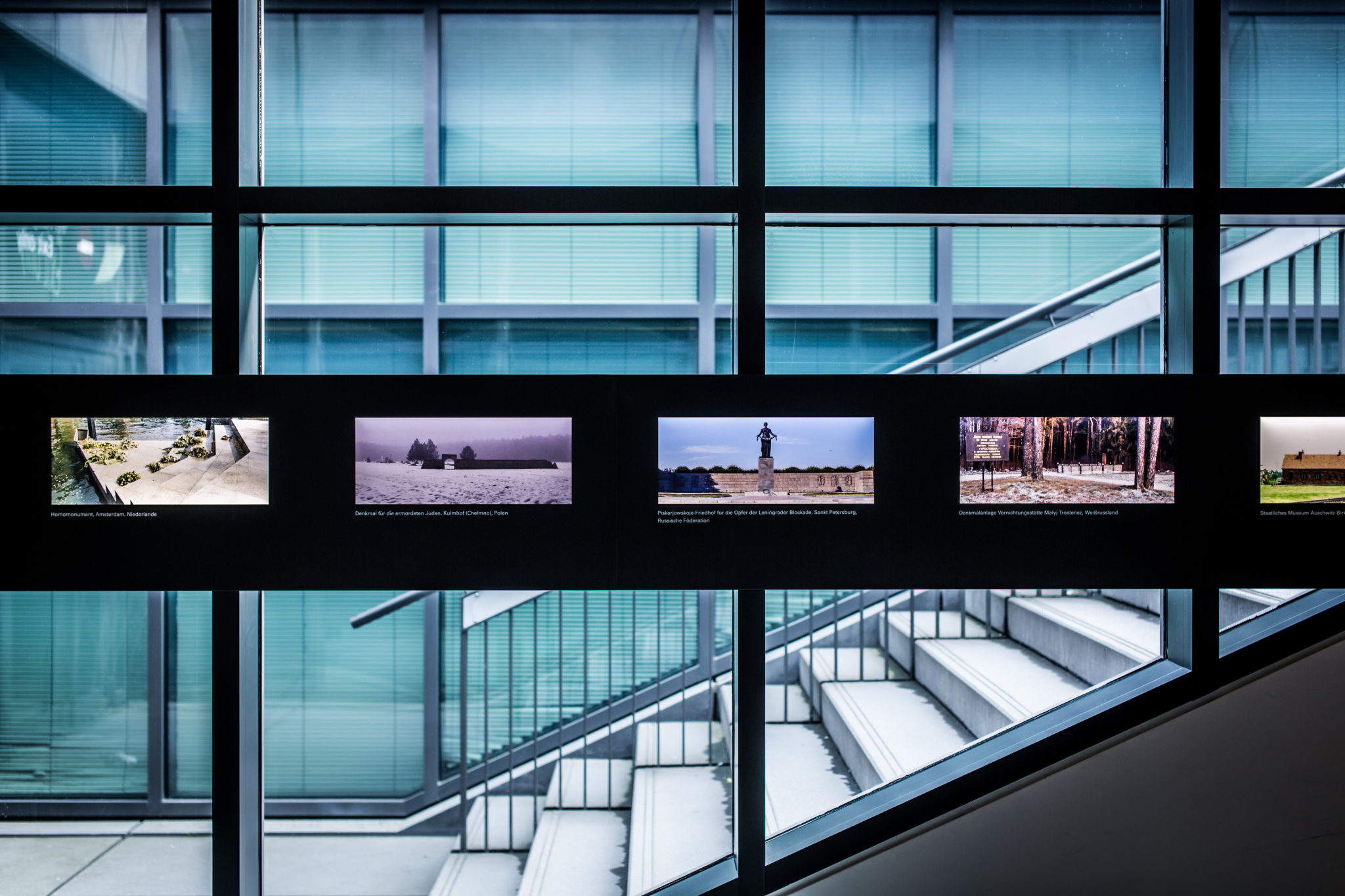 Opening hours Information Centre
April-Sept: Tue-Sun 10 a.m.- 6 p.m.
Oct-March: Tue-Sun 10 a.m. – 6 p.m.
Last admission 45 minutes before closing time
Holidays and closing days
Closed on Mondays (except 8.03., 5.04.,24.05. and 27.12.), 24-26 Dec. and 31 Dec. closed from 4 p.m.
There may be waiting times. The length depends on the day's events. You can find out about the waiting times on site.
History of the Memorial to the Murdered Jews of Europe
Publications on the memorial
Frequently Asked Questions
Visitor Regulations Field of Stelae
(1) Visiting the Field of Stelae is at your own risk all year round.
(2) The Field of Stelae may in principle only be crossed on foot and slowly. For people with reduced mobility and wheelchair users, 13 marked corridors are particularly suitable.
(3) It is not permitted to:
make noise
jump from stele to stele,
the carrying of dogs and other pets,
the carrying and storage of bicycles and similar equipment,
smoking and drinking alcoholic beverages.
(4) All instructions of the designated security personnel shall be followed.
Additional: Photographs, film and television recordings for commercial purposes require the prior written consent of the Foundation Memorial to the Murdered Jews of Europe.
House Rules Information Centre