SAVE THE DATE – October 24, 2022, 7 pm Kino Babylon, Rosa-Luxemburg-Straße 30, 10178 Berlin – Animated short film biographies of persecuted Sinti and Roma – a premiere evening
Nine fates from all over Europe – from the Netherlands, France, Germany, Austria, the Czech Republic, Poland, Serbia and Russia.
Nine stories about the mass murder of babies and children, of men, women and old people; in gas chambers, during mass shootings and in a children's hospital.
Nine stories of resistance and self-assertion, of holding together and finding one's way back to life.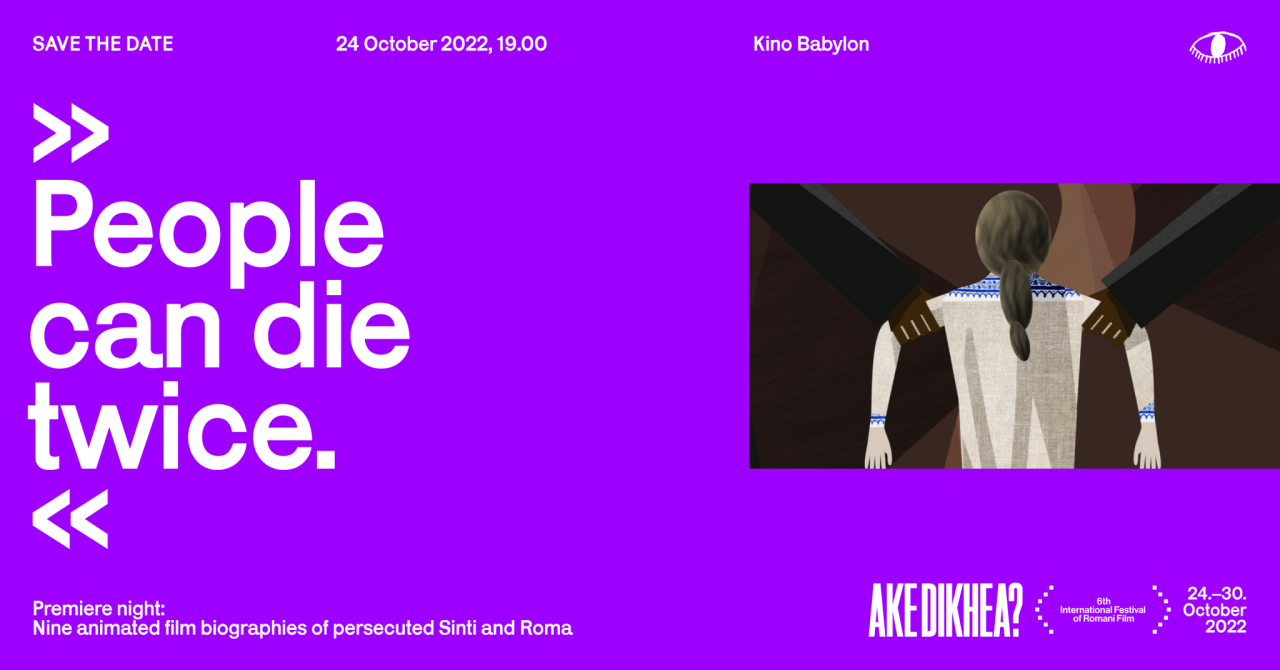 On the occasion of the tenth anniversary of the Memorial to the Sinti and Roma of Europe Murdered under National Socialism on 24 October 2022, RomaTrial e.V. and the Foundation Memorial to the Murdered Jews of Europe produced nine animated short films. They are the stories of the victims and survivors of the National Socialist crimes against the European Sinti and Roma. These nine film artworks were each created in an individual narrative and visual style by artists from a wide range of disciplines and backgrounds.
The premiere evening will mark the start of  the sixth International Festival of Romani Film AKE DIKHEA? on 24 October 2022. It will take place at the Babylon cinema until 30 October with a focus on culture(s) of remembrance that is fitting for the Memorial Jubilee.
At the same time, the nine short films will be permanently accessible in a complementary open-air exhibition at the Memorial to the Murdered Sinti and Roma of Europe.
The event will be opened by greetings from Claudia Roth (Minister of State for Culture and Media) and Dr. Klaus Lederer (Mayor of Berlin and Senator for Culture and Europe). This will be followed by a short introduction by Hamze Bytyçi (Chairman of RomaTrial e. V. and Artistic Director of the Film Festival), Uwe Neumärker (Director of the Foundation Memorial) and Lisa Smith (Co-Curator of the Film Festival). This will be followed by screenings of the nine films and discussions with those involved.
Further information will follow in the coming weeks and can be found at www.akedikhea.com and at www.stiftung-denkmal.de.
____________
The International Roma Film Festival AKE DIKHEA? is funded by the Berlin Senate Department for Culture and Europe from the fund "Spartenoffene Förderung".